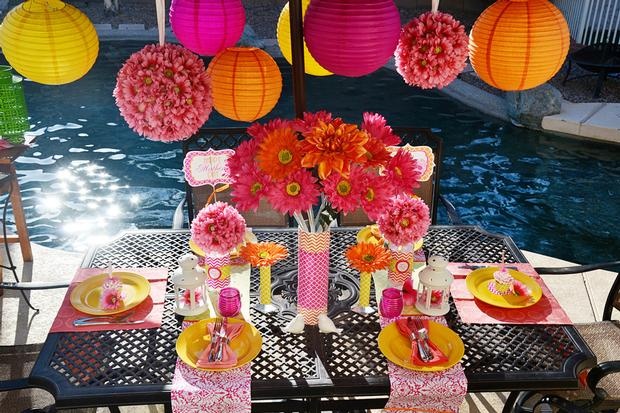 July 12, 2013
8 Tips to Throwing a House Party Your Guests Will Love
You don't need a reason to throw a party–especially at this time of year when the weather is warm, days are longer, schedules are less hectic…and swimming pools are calling to us. The idea of getting your friends together for some fun can be all it takes to get your party-hosting juices flowing.  Not sure what to do?  These tips will take your next gathering from drab to fab in no time!
Start with a theme.   A theme can be anything—a holiday or season, a favorite pastime, or even a simple color scheme.  Carry your theme through everything about your party from your invitations, to your decorations, to your food and entertainment. Be sure to decorate, and don't forget the walkway or entrance to your home which can magically transport your guests into your party's theme.
Send a great invitation.  It's the first glimpse of your theme and will set the mood for your party.  Forego the store bought fill-in-the-blank invites and get creative!  You don't have to be crafty and you don't have to spend a fortune. An invitation is even more fun if you can deliver it in person.  Hosting a wine tasting?  Deliver a bottle of wine with your party invitation printed on the label.  Throwing a pool party?  Write the details on a beach ball!
Serve up a signature beverage.  This is a great way to welcome your guests and get the party started.  A signature drink can be hot or cold, with or without alcohol.  Think lemonade with umbrella straws for your backyard BBQ, or shots of ouzo for your Big Fat Greek Celebration. Signature drinks can double-duty as decorations when displayed on a party table for guests to help themselves. Give the drink a name and add a few accents or garnishes to make it fun.
Set the mood with music.  Your music will enhance the atmosphere of your party in a big way, so be sure to play a selection that goes with your theme. Calypso music is great for a tropical poolside cocktail party while classical music would be perfect for an afternoon tea.  Live musicians and deejays are great if they fit into your party budget and if you really want your guests out of their seats and dancing.  But your stereo, CDs, and iPod are excellent music alternatives that will keep your costs down and your playlist (and play time!) unlimited.
Create conversation areas.  Provide spaces where guests can retreat in small groups.  Sure they can sit in your living room, but if the party is outside, they'll miss out.  And sitting around tables all night isn't very comfortable. Try mixing things up with tables and chairs and then some lounging space with couches, comfy chairs, and low coffee tables.  Try something unexpected like bringing some of your indoor furniture outside to create the lounging areas.  Guests will enjoy the intimate space where they can sit and chat while still being part of the party.
Have fun with your food.  Instead of the typical food buffet set up, do a few themed food stations. Not only does this give your guests a variety of food to choose from, but it helps to create a nice flow for your party.   An alternative idea is to set up different food & beverage areas throughout your house.  For example, a dinner buffet in the dining room, appetizers in the family room, dessert table on the patio, champagne and chocolates in the living room.  It will keep your guests moving, mingling, and excited to see what they'll find next.
Give your guests a favor.  This is a personal touch that is so often overlooked.  What better way to thank guests for coming than to send them
home with something thoughtful.  Whether store bought or homemade, gift favors are a unique way to tie into your theme.  Simple items like a chocolate bar wrapped in seasonal paper with a personalized label, or a CD of music played at your party are favors your guests will appreciate and enjoy long after your party is done.
S.O.S if needed: If the thought of planning a party is a little overwhelming for you, or if you're short on time or ideas, get some help.  You may have friends and family who'd want to pitch in.  Or hire a party planner.  They can be a great help with recommending vendors and services that fit your needs and budget, coming up with unique and creative party ideas, and coordinating your party so you can relax and enjoy it with your guests.
Have fun and happy planning!
Christine
Christine Terezakis is a Palm City based Wedding & Party Planner, Event Designer, Accredited Bridal Consultant, and owner of Dreamday Weddings & Events.  Serving south Florida's Treasure Coast and the Palm Beaches.