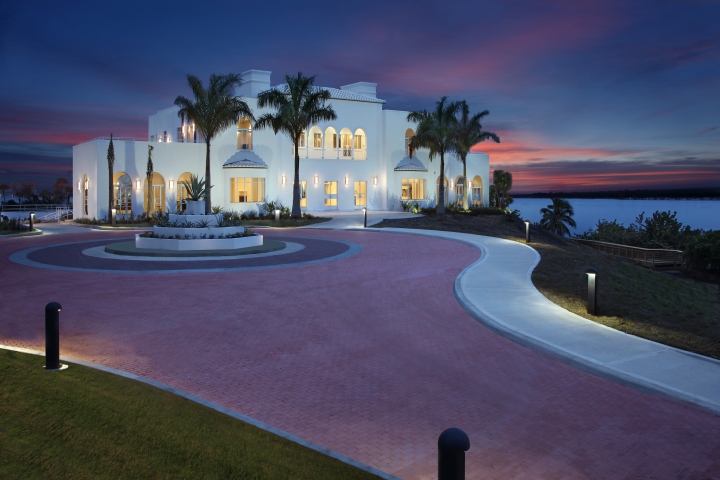 May 02, 2013
Featured Treasure Coast Wedding Venue: the Mansion at Tuckahoe
By: Christine Terezakis of Dreamday Weddings & Events
Today's Virtual Venue Tour features a unique venue here on Florida's Treasure Coast: the Mansion at Tuckahoe.  A beautiful setting for weddings, this is one of only a few waterfront event venues in the area.  With stunning views of the river, the mansion boasts two-stories of event space, several  intimate verandas, and a large outdoor terrace.  Smaller areas of the house can be rented on certain days of the week.  The interior has minimal decoration, giving wedding couples and party hosts a blank canvas to create any event style they choose.
I hope you will enjoy our recent interview about the mansion with the property's Marketing Manager, Craig Jon Anderson:
1. What is the main service/specialty that you provide?  Wedding venue
2. How would you describe the style of your venue?  Art Deco with Mediterranean accents and flaire
3. How many people can you accommodate at this venue?  50 to 500
4. What makes your venue unique from others on the Treasure Coast?  The history starts pre-colonial days.  The style hearkens back to the 30s.  It has spectacular waterfront views and unique and compelling spaces.
5. What is the best advice you can give to a bridal couple today, relative to your industry?   Get a good planner and a good planning guide.
6. Has this venue ever been featured in the media?  Southern Living Magazine, Treasure Coast Bride & Groom Magazine
7. Contact information:  1921 NE Tuckahoe Dr Jensen Beach, Fl. 34957     Phone: (772) 463-3201     Website: www.mansionattuckahoe.com
Comments from Christine, Dreamday Weddings & Events: The Mansion at Tuckahoe continues to be a favorite Treasure Coast venue of mine as an event designer because of it's location and versatility.  To give you an idea of the way this venue can look during an event, I'm sharing a few photos of events we've designed and planned there.  Enjoy!
Happy planning!
Christine
Christine Terezakis is an Event Planner, Designer, ABC Accredited Bridal Consultant, and owner of Dreamday Weddings & Events.  Serving brides & grooms and party hosts throughout Florida's Treasure Coast and the Palm Beaches.
Get Your FREE REPORT: "10 Secrets to Take Your Wedding from Simple to Sensational!"  (sign up at the top right of this page)