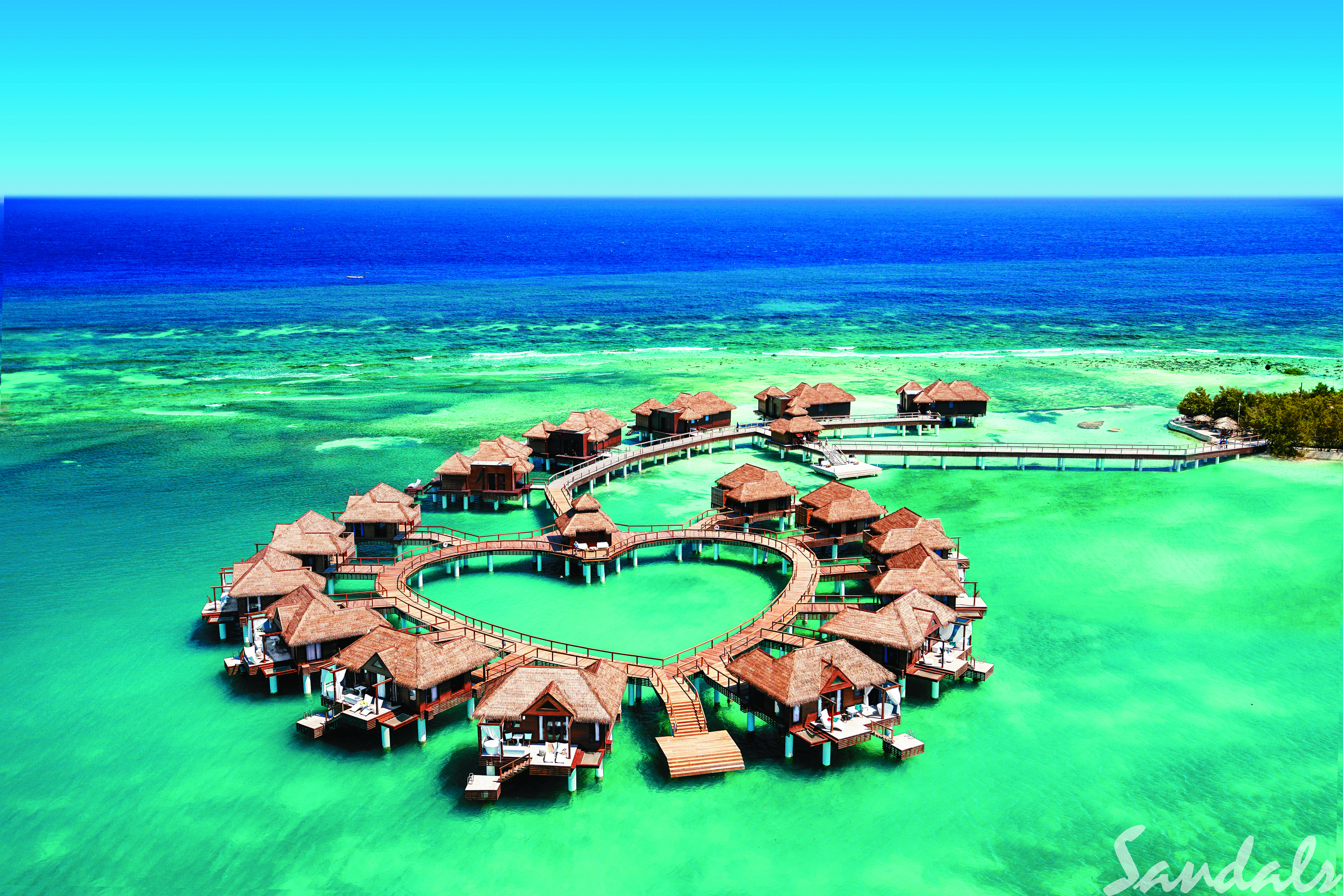 May 29, 2019
Introducing Dreamday Travels, Your Sandals Resorts Vacation Concierge
Hi, I'm Christine Terezakis.  Today I'm sharing an exciting update from Dreamday Weddings…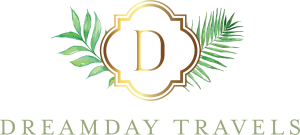 We've recently launched our sister website— www.DreamdayTravels.com!  This travel segment of our company is dedicated exclusively to Honeymoons, Romantic Getaways, Group Trips, Family Vacations, and Destination Weddings at the All-Inclusive Sandals Resorts and Beaches Resorts in the Caribbean.
Are you wondering why a wedding planner is also helping people with their honeymoons and vacations?  I've actually been a Certified Sandals Specialist for many years.  As a professional wedding planner since 2004, my background in everything wedding gives me a unique perspective and approach when helping couples plan their romantic getaways, destination weddings, and fun group trips.  Over the years, this offering has simply become a natural extension of what I do.
Why choose me? In a world where service has become so impersonal, and with the uncertainties that come along with DIY online vacation planning/booking, I offer my clients a specialized travel service and a highly personalized experience.
Read on to find out a little more about my history with Sandals, and the benefits you'll receive with me as your Go-To person for your Sandals Resort or Beaches Resort vacation, honeymoon, or destination wedding…
How did my connection with Sandals Resorts begin?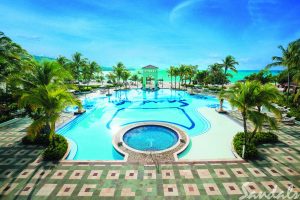 I fell in love with Sandals in 2005. While attending the annual ABC Wedding Planners conference, I attended my very first training to become a Certified Sandal Specialist. At that training, I won a stay for two at the Sandals resort of my choice. That trip was to Sandals Whitehouse (now Sandals South Coast) on the beautiful island of Jamaica. My husband and I were immediately welcomed and continually pampered by the attentive Sandals staff. We enjoyed gorgeous oceanfront accommodations, a delicious variety of restaurants, cocktails whenever we wanted, local entertainment, lush tropical surroundings, amazing pools, snorkeling & scuba diving excursions, water sports, long stretches of private beach, and so much more. It was heavenly, it was romantic, and it was ALL included in our stay. That's when I truly understood what guests experience at Sandals all-inclusive resorts. I've been a travel specialist exclusively with Sandals and Beaches Luxury Included™ Resorts ever since.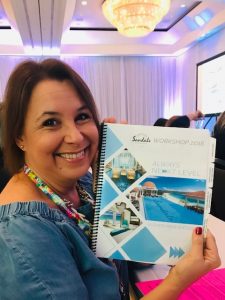 How do I stay current as a Certified Sandals Specialist?
I attend annual training workshops which are required of travel agents in order to maintain the Certified Sandals Certification.  This intensive training keeps me up to date with all of the offerings, new additions, updated programs and policies, and all pertinent information about each of the Sandals and Beaches resort property details and accommodation options. I also attend the Aisle to Isle wedding trainings for the continually updated Sandals and Beaches destination weddings programs and all-inclusive wedding packages.
How do I know which resorts to recommend to my travel clients?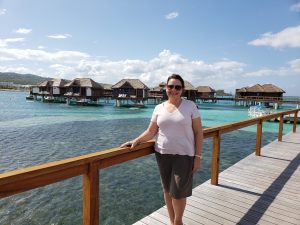 In addition to my annual Certified Sandals Specialist certification training, I travel to the resorts on a regular basis. I participate in FAM (familiarization) trips for travel partners, and I personally vacation at the resorts. This allows me to experience the service, tour the properties and accommodations, see the new and exciting additions and enhancements, check out the wedding package and décor updates, and to get to know the management and staff. Having a personal experience and connection with the properties enables me to match my clients with the location that is the best fit for what they want their vacation or destination wedding experience to be.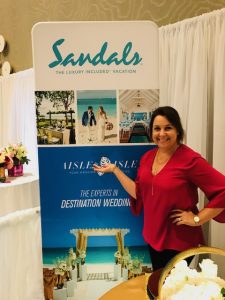 Why book your Sandals or Beaches DESTINATION WEDDING with me? 
As a professional wedding planner since 2004, my experience and perspective with wedding planning is extremely different from that of someone who is primarily a travel agent. (Travel agents who sell Sandals vacations can also sell Sandals weddings.  Believe me, there's a BIG difference between SELLING weddings and PLANNING them!)  Something extremely unique and not well-known about me is that, a few years ago, I was invited by Sandals to participate as one of three professional wedding planners in a weddings forum to suggest ideas for revamping their former wedding programs.  It was that forum that has helped Sandals weddings evolve into the customisable wedding programs they offer today.
You may be wondering…Does it cost more, or does it cost less to book your Sandals or Beaches vacation with me?
The answer is: Neither…but you get added benefits when you book through me.
The cost for your travel, accommodations, and extras such as spa services and excursions is the same regardless of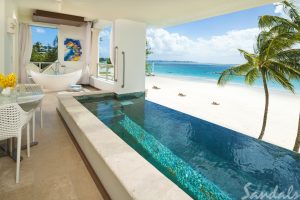 whether you book through me, or through another agent, or by yourself online. HOWEVER, when you book through me, you get very personal and readily available attention.  You will be promptly responded to and helped by me EVERY TIME, instead of by a random different person each time at a call-in booking center.  And you get the benefits of my firsthand in-the-know experience to match you to the resort and the accommodation level that's the right fit for you and your budget. I always make sure my clients get the BEST DEAL that Sandals/Beaches is offering when I'm making your vacation arrangements. PLUS, I add some nice extra surprises for my travel clients (but you'll have to find out what those are when you book your trip through me).
You should know that travel partners are not allowed to offer their own discounts on Sandals or Beaches bookings. And some travel agencies and specialists charge an additional fee for their booking and/or vacation planning services, but I do not. My booking and vacation planning services are COMPLETELY COMPLIMENTARY for you, and are not added to the price of your booking in any way.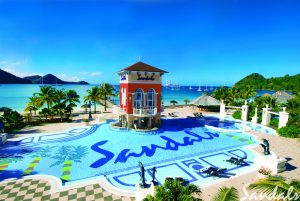 Why Sandals or Beaches Resorts as compared to other all-inclusive resorts or cruises? 
I've been on cruises and I've been to other inclusive resorts. In comparison, I've found that you get a lot of VALUE when you stay at Sandals/Beaches Resorts because so much is included at Sandals/Beaches that is not included on cruises or at other all-inclusive resorts. You might get into those starting at a low price, but when you incur extra costs such as bar tabs, upgraded dining, excursions, fees for extra amenities, airport transfers, taxes, tips/gratuities…it really adds up, and you wind up paying more than you thought you would.
To compare, here's what's INCLUDED with a Sandals or Beaches Resort stay: multiple restaurants of your choice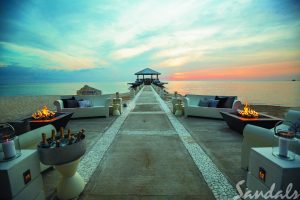 for dining and snacks any time, unlimited premium spirits and beverages, swim up bars, multiple pools and whirlpools, water sports, scuba and snorkel excursions including equipment, daily entertainment, greens fees for golfing where offered at select resorts, free Wi-Fi, fitness centers, free all-inclusive wedding packages (for stay 3 nights+), roundtrip airport transfers, AND TAXES AND TIPS/GRATUITIES.
Whew, that's a lot of amazing inclusions!  Get in touch with me for the best resort recommendations for you, FREE quotes, and an amazing vacation experience.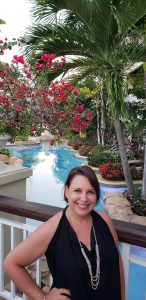 I hope you'll visit our new website (www.DreamdayTravels.com) to see more about the resorts and why you'll benefit from booking with me.  You'll be able to check in on my travel blog there as well.  I'll also be posting info, updates, current specials/discounts, and resort previews regularly on our Facebook page (Dreamday Travels), so, I invite you to LIKE and FOLLOW ME there.
Lastly, I hope you'll have fun joining me in the love of Caribbean destinations and the luxurious inclusions that Sandals and Beaches Resorts have to offer.
Happy travels! ~ Christine
Email: info@dreamdaytravels.com
Phone: (772) 285-9147
Christine Terezakis is the founder and owner of Dreamday Weddings and its sister website, Dreamday Travels. She has over 14 years of experience in the wedding industry as a Wedding Planner and Certified Sandals and Beaches Resorts Specialist.  Christine combines her wealth of experience, passion for weddings, and love of travel to inspire, guide, and serve couples who are planning their dream weddings, and Caribbean destination weddings and honeymoons.
Follow us:
Instagram: @dreamdayweddingsfl
Facebook: Dreamday Weddings & Events / Dreamday Celebrations
Facebook: Dreamday Travels
Pinterest: Dreamday Weddings