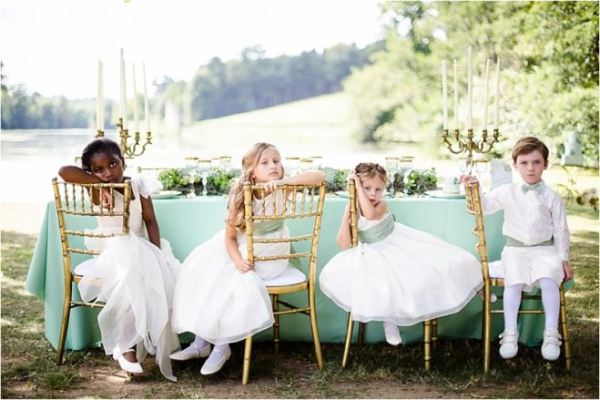 September 06, 2019
Kids at Weddings, Your Need-to-Know Guide
Written by: Christine Terezakis
Whether or not to allow kids at your wedding is a big decision—one that you need to discuss as a couple to decide what works for you and your wedding plans.  Is it a matter of budget?  Is it a matter of desiring a certain wedding atmosphere?  Are there certain kids you absolutely want to have there as part of your special day?  There is so much to consider, but today I'm sharing some advice to help you along the way.
If you decide to invite children, you'll need to draw the line on where the cutoff is.  Will you allow only kids within your families but not of friends?  Kids of wedding party members?  What about kids of people traveling from out of state?  Whatever your decision, it needs to be clear, and it needs to be made early in your plans.  That way you'll have enough time to get the word out.  (And by the way, inviting kids only to the ceremony will not solve the problem.)
The first thing you can do to spread the word is to have your family do it for you. Believe me, if people have kids, they'll start asking if they'll be welcome at the wedding.  You can also start planting the seeds by posting something about this on your personal wedding website.  (Keep reading for suggested wording.)
Be very specific on your invitations. Once you decide to invite or not invite the kiddos, your invitations will be the most obvious way to make it clear.  If you're inviting the children, address the invitation to the parents and include the words "and family" and then include the children's names with the parent's names on the inner envelope.  If you're not inviting the children, make sure the invitation only lists the adult names on both outer and inner envelopes.
It can sound harsh to include "No Children" on your invite, but if you feel more comfortable spelling it out for your guests, here are some suggestions for politely stating it with a softer tone:
"Regrettably, children are not able to attend"
"So that all the couples will be able to enjoy the party to the fullest, we are having an adult only reception"
"While we love your little ones, we want to party the night away with you and will be hosting an adult only reception"
"Due to venue restrictions, children under the age of 10 are not allowed"
Be prepared that sometimes people will RSVP that their kids are coming even if you didn't invite them.  This is when you'll need to call them and politely let them know you're sorry but that you couldn't invite everyone's children.  THIS is where that "draw the line" decision is going to come in handy because you'll be able to tell them where the cutoff had to be concerning kids.  Once they understand that the cutoff is the same for everyone, they're likely to be more sensitive to your situation.
If you've decided to allow kids at your wedding, you're going to need to do a little extra planning. Even the sweetest most well behaved kids can get bored at such a grown up event.  So, it's important to include some extra thought for them.  It will not only please the kids, but their parents will appreciate being able to spend more time enjoying your celebration.  And you'll help to avert lots of potentially annoying situations.
Here are some ideas to make it work!
Seat kids with other similar aged kids at their own table.  Teens should be at a teen table—they don't want to sit with their parents.  And younger children, age six and older should be fine at their own table situated near their parents.  You may even have a pre-teen guest who'd like to sit with the younger guests and be designated to watch over them during dinner.  OR, you could seat families with children together with other families with children.
Create a kid-friendly menu.  While most teens will enjoy whatever the adults are eating, younger kids won't.  Talk to your caterer about what they can offer for children.  Some common favorites include chicken fingers, macaroni and cheese, mini pizzas, fries, and fresh fruit.  These could be served at their table or put out on a special kid's buffet just for them.  See if their food can be brought out right away since they could get impatient waiting through toasts and dances before they get a bite to eat.  And speaking of toasts, how about serving the kids milk shooters and a cookie while the adults toast with their glass of champagne?
Make the kid table SPECIAL.  The younger guests don't need to have your elaborate floral centerpieces on their table.  Balloons, mini candy machines, small stuffed animals, disposable cameras, fun masks/hats/crowns, or a basket of party favors would be much more fun for them.  Instead of a table number, have a sign that says, "Kids Only." You could even cover their table with plain white paper and provide crayons so they can draw on it.  Get creative with this one!
Double-duty their party favor.  Little kids love presents. (Doesn't everyone?)  Give favors that include things they can play with (quietly) during your reception like crayons and coloring books, action figures, small travel games, bubbles, and of course candy.  Teens don't really need favors, but if you want to give them something different because the wine stoppers you're giving the adults is inappropriate for them, try gift cards for music downloads, a deck of cards, or an edible treat they can enjoy right away.
Provide a special area.  Your venue may have a separate room close to your reception room that can be designated as a kids-only zone.  Give the kids a golden ticket or a "magic" bracelet that gives them access to the room to make them feel special.  Of course, you would have to provide childcare services so the children would be supervised. Stock the room with a TV, movies, games, toys, and snacks.  Perhaps you could provide their own entertainment like a magician, balloon sculptor, puppet show, or costume props for playing dress-up.
One last thing to note…Have someone else handle the sticky situations.  If someone's child is disrupting the party or acting inappropriately, their parents simply must be told about it and asked to take care of it.  But, that someone shouldn't be the wedding couple.  Your only job that day is to have fun!  Before wedding day, decide who that someone will be, whether it's your Wedding Planner, your Best Man, or whoever you feel would best handle this type of thing.
Whether or not to invite kids to your wedding is a tricky dilemma.  But with an early decision and some careful planning, you'll be navigating your way through it with ease.  Weddings can truly be celebrations to enjoy with guests of all ages.  If there is something there for everyone, your guests will really enjoy it, and most importantly, so will you!
Happy planning,
Christine
Dreamday Weddings
Email: Christine@dreamdayweddingsfl.com
Phone: (772) 285-9147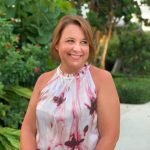 Christine Terezakis is the founder and owner of Dreamday Weddings and its sister website, Dreamday Travels. She has over 14 years of experience in the wedding and travel industries as a Wedding Planner and Certified Sandals and Beaches Resorts Specialist.  Christine combines her wealth of experience, passion for weddings, and love of travel to inspire, guide, and serve her clients: Couples who are planning their dream weddings in Florida and Caribbean destinations, and Vacationers and Honeymooners who enjoy the luxuries of all-inclusive Caribbean resort getaways.
 Follow us:
Instagram: @dreamdayweddingsfl
Facebook: Dreamday Weddings & Events / Dreamday Celebrations
Facebook: Dreamday Travels
Pinterest: Dreamday Weddings